Musical Background - Dan has been interested in music since the age of 5 or so. Being one of the youngest cousins in his family allowed him exposure to cutting edge rock music at a young age in the late 60's through the 70's. Many of these emerging pioneers of rock formed Dan's musical education as evidenced by the list of influences listed below.

Musical Training - Dan was formally trained on piano for 4 years as a child. All other instruments were learned by ear and through practice, practice, practice. His first major musical experience was going to see the Milwaukee Symphony at the Pabst Theater in the 4th grade - "Everyone else in my class was excited because they got to go to McDonald's afterwards, but I was absolutely blown away hearing the power of a live orchestra! It changed my life! All my classmates were sleeping, and I was never more awake!"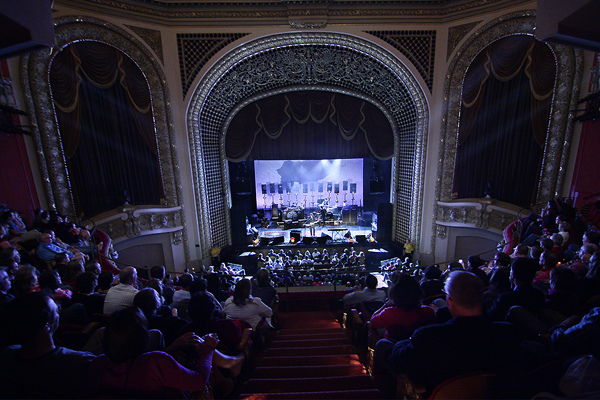 Dan has been writing original music since college in 1983 and continues to perfect his song writing craft today. According to Dan "Teaching myself guitar almost resulted in me flunking out of college, but I learned to manage my time to do both. I attended Miami University in Oxford, Ohio, and while I was there I would sneak down to the music department, and shut myself into a rehearsal room with a Grand Piano and just play for hours and hours."

Education in Recording - Dan's first exposure to the art of recording engineering came around 1980 while attending some classes at the legendary 5th Floor Recording Studio in Cincinnati (owned by Rich Goldman at the time, now co-founder of Riptidemusic). "These classes where paramount and were the spark that ignited the flame for me when it came to playing/recording. I felt so at home in the studio..almost like I knew how everything was supposed to work before getting a chance to get my hands on the equipment. This was an all analog recording studio, complete with 2" 24-track tape machines and a large format 40 input Harrison mixing console, patch bays, compressors, reverbs, the works. We would record different instruments for a band and ultimately have to mix the tracks and turn them in for review by the staff at the studio".

During his time at Miami (around 1985), Dan became interested in cutting edge music creation and recording techniques/technology. "I took an "Electronic Music" class as an elective just to gain access to their analog 4-track RTR machine, their DX7, and the legendary Buchla Series 400 - a peer to the Synclavier. I had been in and around professional recording studios and experienced working on large analog consoles, but it was always someone else's music I was working on. This was my first exposure to recording myself and there was no looking back. As part of the class, we had to study existing electronic music artists as well as compose original electronic music that must be devoid of many of the main aspects of popular music, such as rhythm and melody." A challenge for anyone with musical instincts and Dan's background of recorded music. Dan's final exam work was selected by the professor to be played for the class. It was called "The Drop"- a 5 minute electronic piece created with the DX7 and various analog tape effects/edits that started with sound of a water drop and slowly built to a cacophony of various noises culminating in a large explosion followed by silence and then the sound of the water drop again. "It was meant to be a concept piece about the creation of the universe and it's development, on fast forward, until it collapsed on itself and began again...a synopsis of the human species if you will."

Live Mixing/Working With Bands - I have had the pleasure of being involved (along with my brother Ken on most of these) with production, engineering, live sound mixing, mastering, etc. for many bands since the early 80's. Just a few names - Blitz, Alibi, Finale, Mara, Velvet Lapel, Jay Aronoff as well as others. I've always enjoyed helping artists, that inspire me, reach their ultimate potential - whether working live or in the studio.

Home Studio Revolution - As an artist/engineer, Dan was an early adopter and has always been on the forefront of the "Home Studio Revolution" that started in the mid-eighties brought on by technologies such as MIDI, Sequencing, Digital Audio Workstation software, etc. "Around 1986, I realized that the only way to truly write without barriers and without the expense of booking a recording studio was to have my own place. So, I began creating my own home studio to capture ideas." The original line-up centered around a Yamaha MT44 4-track recorder/Ramsa 8210A mixer combination with an early 80's Les Paul, a Yamaha acoustic guitar, a bass guitar, various guitar amplifiers, a Scholz Rockman Sustainor, an Alesis Midiverb and Quadraverb, a Roland Juno 106, an Oberheim Matrix 1000, and a Yamaha RX-17 drum machine and DX100 digital synth. "This set-up allowed me to record my own music whenever I wanted and learn a lot about songwriting and engineering/producing music." This was a very productive period during which time Dan wrote and recorded over 150 songs of various styles. Some of these songs were released in a limited capacity on cassette only. Later - that set-up grew to include various Mesa Boogie Amplifiers, E-mu samplers (Emax, ESI-32), a large sample library, expanded use of analog and digital synthesizers and Midi/SMPTE synchronization between Cakewalk running on a IBM-PC Clone and an analog MTR. This is the set-up that was used to write and record 'Life's Soundtrack". "At the time, I was limited by the number of analog tracks available, but was very content with the ability to produce good music with that modest set-up. I mean 'Sgt. Pepper' was recorded on a 4-track without Midi, so why should I complain?"

"Recording engineering is largely an apprenticeship-style skill. You really have to constantly be getting the latest info on gear, spending hours a week using the equipment/technology - and of course listen to lots and lots of music - if you want to be good at this stuff".

Fast forward to today, Dan's gear has continued to keep pace with the rapidly changing landscape of music technology. "I tend to focus on the music gear developments that allow me the clearest path from inspiration to realization of musical ideas, and not get hung up on the latest stuff just because it's new. I use 2 rackmount Intel/Windows7/64-bit Groove Machine Music PC's - one for tracking/mixing and another for decaited sample playback via E-mu's Emulator X and Gigastudio 4. I currently use Cubase/Nuendo, Pro Tools HD, Sonar, Sony Products - Acid, Sound Forge, Vegas, and CD Architect 5.2 for most of my productions now. That along with Native Instruments Komplete Ultimate, WAVES Diamond, Universal Audio's UAD-2 and all of their awesome emulations of classic analog gear, TC Electronic's PowerCore, and SSL's Duende processors. The options sound wise are infinite really. It takes a lot of discipline to not spend too much time experimenting and not enough time producing music."

Dan's Major Musical Influences
Guitarists "I don't try too much to play like them, I just love what they do"
Jeff Beck | David Gilmour | Carlos Santana | Mark Knopfler | Pat Metheny | Al DiMeola | Allan Holdsworth | Steve Hackett
Steve Rothery | Eric Johnson | Stevie Ray Vaughan
Electronica/Keyboard Influences "They fueled a whole generation of artists"
Tony Banks | Richard Wright | Patrick O'Hearn | Tangerine Dream | Eddie Jobson | Jean Michel Jarre | BT | Chicane | Chris Franke | Thomas Dolby | Howard Jones | Geoff Downes | Rick Wakeman | Keith Emerson | Lyle Mays | Mark Kelly
Neo-Progressive Rock Influences "Just got to love the atmospheres and musicianship on display"
Marillion | Genesis (as well as solo stuff by Tony Banks, Steve Hackett, Phil Collins, Peter Gabriel) | Pink Floyd | Rush | Yes

King Crimson | Dire Straits | Dream Theater | ELP | Jethro Tull | Transatlantic | OSI | Porcupine Tree
Bass Players

Chris Squire | Mike Rutherford | Geddy Lee | Marcus Miller | Christian McBride | Victor Wooten | Tal Wilkenfeld
"Great players and writers"..just to name a few...
Keith Carlock | Vinnie Colaiuta | Sting | Neil Finn/Crowded House | Bruce Hornsby | Donald Fagan/Walter Becker (Steely Dan) | Don Henley